---
You can use the buttons below to navigate this page.
---
Thank you for joining us for the 2023 Cherishing Childhood Awards Reception! We will be honoring Michele Booth Cole's 20th anniversary as Executive Director of Safe Shores and recognizing Charles "Sandy" Wilkes and Naomi Wadler for their commitment to creating a safer DC for children.
The awards will take place on Wednesday, November 15 from 6:30 PM to 8:30 PM at the Martin Luther King Jr. Memorial Library.
---
Awards Reception Program
---
---
Doors open
Enjoy hors d'oeuvres, drinks, and lively music presented by East of the River Steel Band
---
Awards Ceremony Begins
Charles C. (Sandy) Wilkes
Presented by Michele Booth Cole
Naomi Wadler
Presented by Michele Booth Cole
Michele Booth Cole
Presented by Shana Glickfield
---
---
---
Parking and Transportation
The Cherishing Childhood Awards Reception is located on the fifth floor of the Martin Luther King Jr. Memorial Library.
MJ Valet is offering complimentary valet parking for guests from 6:00 PM to 9:00 PM. To use this complimentary valet parking, go to the G Street at the entrance of the library and look for the MJ Valet signage. Guests should share they are attending the Cherishing Childhood Awards Reception hosted by Safe Shores.

For guests who want to use the Metro, the library is less than a block from the Gallery Place-Chinatown Station for Green and Yellow lines and two blocks from Metro Center Station for Blue, Orange, Red, and Silver lines.
More information about the awards reception
This is an indoor-outdoor, standing reception event on the fifth floor of the Martin Luther King Jr. Memorial Library. There are no assigned seats and the majority of tables are high tops. There is elevator access to the fifth floor.
COVID Precautions
We encourage all guests to take a rapid test the day of the event and to stay home if they test positive, or simply if they are feeling unwell. Masks are encouraged, but not required. We will provide high-quality masks at the registration table for anyone who would like one.
Attire
Business to Comfortable Cocktail. Coat check will be provided.
Food and Drink
Passed hors d'oeuvres will be provided including vegetarian, vegan, and gluten-free options.

Wine, beer, and non-alcoholic drinks will be served.
GET TO KNOW THE
Cherishing Childhood Award Reception Honorees
Naomi Wadler
An organizer against gun violence at her elementary school and the youngest speaker at age 11 at the March for Our Lives in 2018, Naomi Wadler's advocacy has taken her to the Women in the World Annual Summit, Teen Vogue Summit, Davos Economic Forum, Tribeca Film Festival, and a New York Magazine cover with Barbra Streisand.
For using her power and voice to inspire change for a safer world and being a Safe Shores supporter, Naomi is a 2023 Cherishing Childhood Awardee!
---
Charles C. Sandy Wilkes
As Board Chair of The Washington Children's Foundation, Sandy Wilkes initiated and has led 15 consecutive years of philanthropic partnership with Safe Shores, making it possible to do even more for more child victims of abuse.
For bringing hope and healing to the lives of tens of thousands of children and families in DC, Sandy is a 2023 Cherishing Childhood Awardee!
---
Michele Booth Cole
Since Michele Booth Cole became executive director in 2003, she secured the much-needed additional space that is Safe Shores' current home, sustained funding, and recognition that, as the Child Advocacy Center for the District of Columbia, Safe Shores provides a vital service in the District of Columbia.
For leading with integrity, humility, equity, and innovation for 20 years; ensuring bigger (and better!) space and fiscal stability; and, earning Safe Shores recognition as a top nonprofit and one of the best CACs in the United States, Michele is a 2023 Cherishing Childhood Awardee!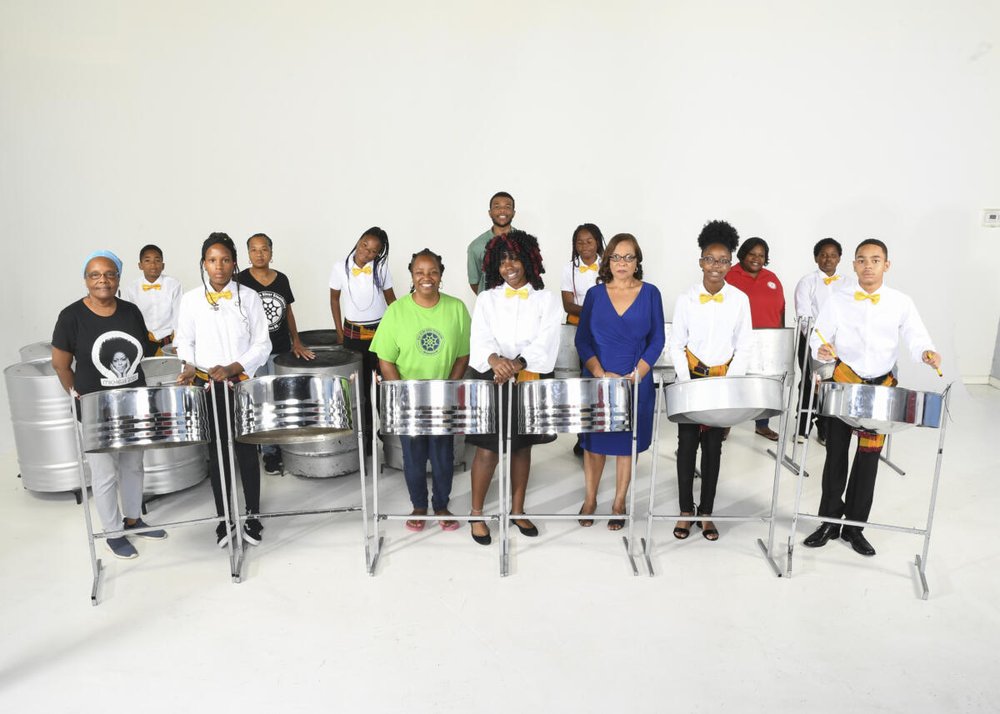 Photos from East of the River Steelband Gallery
Live music Provided by
East of the
River Steelband
We are delighted to have music for the evening provided by Washington DC's premier youth steelband. East of the River Steelband has been providing music education and training to children who live east of the Anacostia River since 1993.
Band members learn music theory education and an extensive repertoire including Caribbean and calypso, rhythm and blues, jazz, hip hop, and gospel. Lessons include learning how to read and write music along with a focus on cultural heritage through activities, workshops, field trips, and more!
GEt to know the Evening's Emcee
Poet Taylor
We are looking forward to having longtime supporter and Safe Shores Board Member Poet Taylor as the evening's emcee.
If you listen to WPGC on the weekdays, chances are you've heard Poet during her mid-day show live from the nation's capital. When she's not on the radio, Poet is truly a multi-media magnate, and can be found on DishNation, Fox5DC, Good Morning Washington, BET, among others.
Outside of the studio, Poet spends her time helping children in DC. She has served on Safe Shores Board for the past five years, been a liaison for LINK Strategic partners with DC Child and Family Services Agency, and is committed to bringing awareness to major issues that children in the District face, from gun violence to body shaming.
Thank You to Our Sponsors
---
---
---
Kronowitz-Lewis Family Fund

Andrew Marks & Susan Esserman
---
Ellen Blankenstein Spiegel

Diane Tipton & David Bradt
---
Thank You to Our Host Committee
Tabitha Almquist*
Cheryl Anne Boyce
Diana and Henry Cashen
Corina Cortez*
Jenny DiJames
Desyree Dixon*
Oladele Dosunmu
Lynn English
John Gilmore*
Shana Glickfield*
Justin Harrison*
Dian Holton*
Mark Johannessen
Deborah Jospin*
Walter Kim*
Rachel Kronowitz
Susan Molinari
Maegan Scott*
Selena Mendy Singleton
Rosiland Jordan
Taylor Sphon*
Poet Taylor*
Tatiana Torres*
Julie Wadler*
B. Michael Young
*Member of Safe Shores Board of Directors.